Want to know what life will be like after you invest in Serenbe real estate? First, welcome to a town built around community support and sustainability. You're entering a neighborhood that loves food, the arts, and getting active outdoors. So what exactly can you expect in your first year?
Plenty of time spent outdoors
The entire vision behind Serenbe is to create a biophilic community, one that connects its residents with nature. So in your first year living in one of the hamlets or neighborhoods, you can expect to get outside often. First, Serenbe homes for sale are intentionally designed with attached porch or balcony spaces. These serve two purposes. First, they allow residents to enjoy the fresh air without leaving their homes. Second, they provide residents with the chance to greet and commune with passing neighbors.


Second, Serenbe has access to more than 15 miles of trail paths, connecting directly to each of the four hamlets. Those living in the quaint community are encouraged to walk from one hamlet to another, particularly to engage in the multiple values themed in each neighborhood square. For instance, the Mado Hamlet is the health and wellness hamlet, so those interested in taking a yoga class or visiting a medical center can go there to do so. The Selborne Hamlet, on the other hand, is the arts hamlet, where residents can visit the town art gallery or take in outdoor performances on the Selborne Green.

The trails between the hamlets are open to residents and guests of the Inn at Serenbe only. Hiking and horseback riding up to the waterfalls are some favorite pastimes of those who call Serenbe home.
Seasonal farmers' markets or the CSA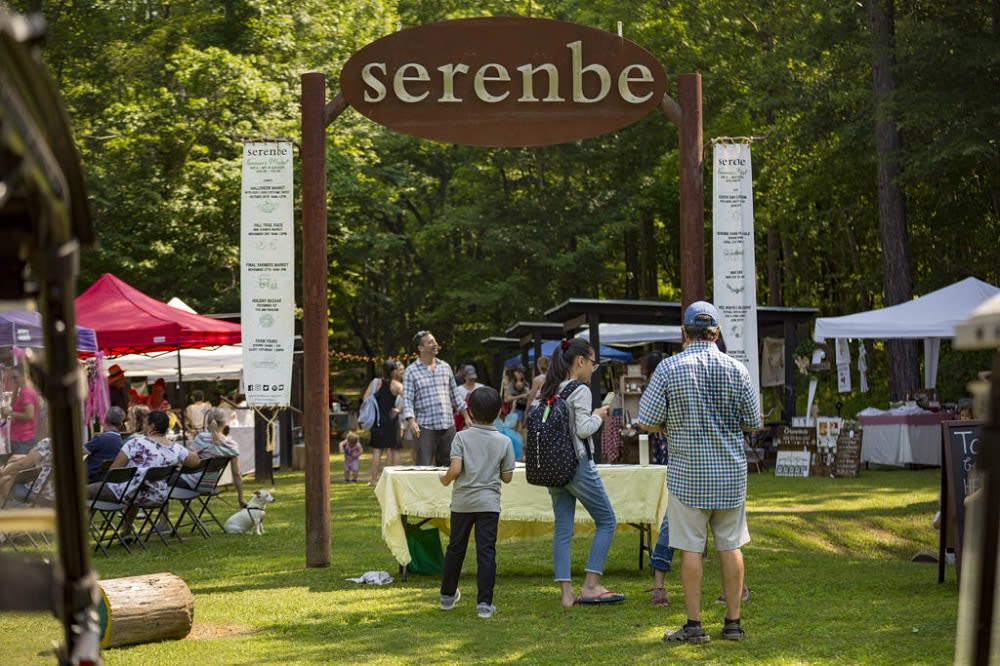 The
Serenbe Farmers' Market
runs from March through October with the goal of bringing locally-farmed, organic meats and produce to residents of Chattahoochee Hills. Serenbe is a community built around sustainability, and that includes having sustainable sources of food. The market is intended to build connections between members of the Serenbe community and those of the surrounding Chattahoochee Hills neighborhoods. Artisans, craft-makers, and foodies alike are all welcome to set up a booth. The Serenbe Farmers' Market takes place at Serenbe Farms, offering a stunning location out in the middle of a wide-open green space surrounded by the forest.
Serenbe residents can also become members of Serenbe Farms and take part in Community Supported Agriculture (CSA). Seasonal farm sharing through CSA means members are provided with weekly produce and resources for how to prepare and cook them. New residents can also expect to take part in farm volunteering days, giving back to the source that provides for the community's wellbeing. Depending on the season, those exploring Serenbe homes for sale can look forward to assisting with work in the greenhouse, helping man a booth at the Farmer's Market, building beds for fall and spring transplants, or taking part in the annual harvest. Farm volunteering is a great way to meet other Serenbe residents while you give back and take part in good, old-fashioned manual labor.
Twice-yearly Serenbe trail races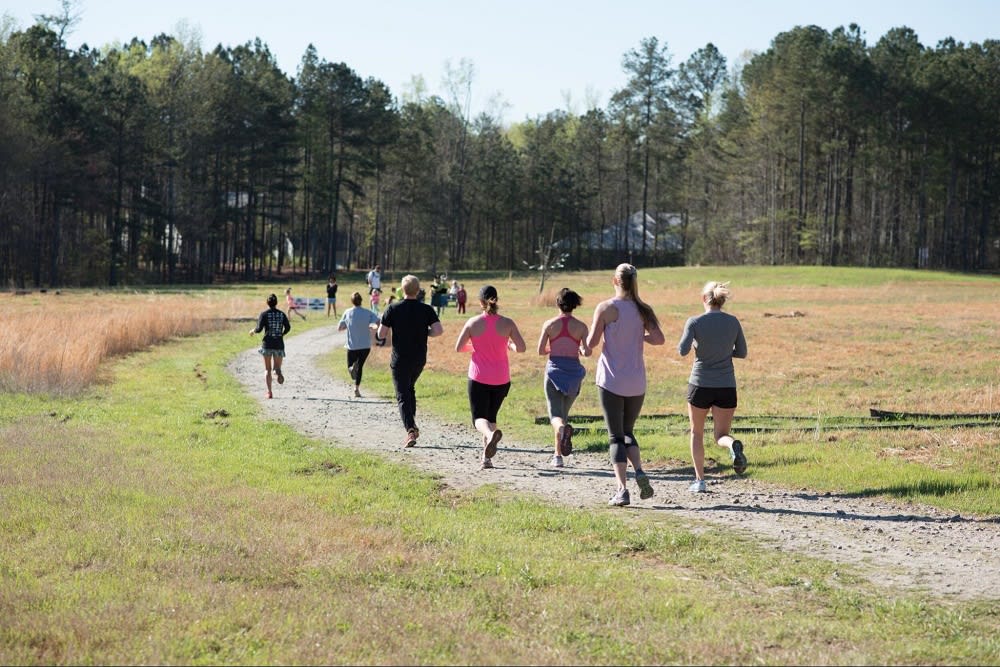 Photo courtesy of Serenbe Trail Race
The
Serenbe Trail Race
is a staple of the community and a favorite for those who reside in the Mado Hamlet. Choose between walking or running a 5k or running a full 15k through fields, meadows, forests, and pastures. The run brings together not only Serenbe residents but the general public as well, giving anyone who wants it the chance to see what life in Serenbe is all about. Participants can strap on their trail-running shoes and expect to challenge themselves physically as they traverse gentle inclines, part of the Chattahoochee Hills system. Runners can also expect to pass by waterfalls and spot local horses, both of which provide idyllic, inspiring views to help them persevere through every mile.
Participants are offered a race t-shirt, breakfast from the local restaurant, Halsa, and a beer after completion. Finishing medals are also awarded, and those who are not participating in the run are encouraged to volunteer to hand out the medals, offer water to the runners, or distribute pre-race packages.
A thriving arts community
Life in Serenbe isn't all about physical health and activity, however. Mental health and activity is an important value, too. That's why Serenbe is home to a thriving arts community that encourages residents to engage in their creative side. You'll meet creatives from every medium: wood-workers, painters, writers, crafters, and more. For those who value the arts and are considering Serenbe real estate, the Selbourne Hamlet is likely the neighborhood for you. The Selborne Green is always hosting outdoor performances, from film screenings to ballets. The art gallery is also located in Selborne and hosts exhibits featuring jewelry, ceramics, painting, photography, and work in mixed media.


Those living in the Grange Hamlet are steps from the Art Farm, where they can stop in at the
Hills & Hamlets Bookshop
or take in a dinner concert. Dance classes, as well as film showings and theater performances, are other activities offered within the Art Farm.
Holiday celebrations
Owning one of the many Serenbe homes for sale means you have access to fantastic, community-wide holiday celebrations throughout the year. During the summer, residents put on a big Fourth of July celebration with a community-sponsored potluck preceding a night of fun and fireworks. And during the winter holidays, the community hosts the Serenbe Holiday Bazaar, inviting residents and guests to the Inn for a series of events. Take part in festive craft workshops and seasonal activities while you grab a bite from one of the local food trucks. Sip cider or hot cocoa while you browse gifts that were handcrafted by Serenbe artists.


In your first year as a resident of Serenbe, you can expect to be warmly welcomed into a community that values time spent together. Whether it's outside hiking the trails or meeting at the Selborne Green for an outdoor movie, those who have invested in Serenbe real estate also invest in the community around them.
Looking for Serenbe luxury real estate?
If you want to be part of a sustainable, well-rounded neighborhood, reach out to
Team Reed
to talk about available homes in Serenbe.