The neighborhood of Serenbe is a breathtaking expanse of countryside south of Atlanta that exemplifies New Urbanism ideals, takes residents back to slow-paced living, and fosters a close-knit community. If you're considering making the move to Serenbe, here are eleven reasons Serenbe residents love living here.
1. Immersive, Bucolic Tranquility
Serenbe is a wellness community created to foster a well-lived life, and it's located southwest of Atlanta in the city of Chattahoochee Hills. This ideal community was aptly named, combining the words "Serene" and "Be," which is exactly the lifestyle that has been cultivated in this unique area. While other New Urbanist communities strive to make walkable, urban-esque communities, Serenbe takes it a step farther to the biophilic. Residents reconvene with nature via access to a fishing pond, multiple waterfall hikes, and over 15 miles of forested trails throughout Serenbe's 600 acres.
2. Individualized Hamlets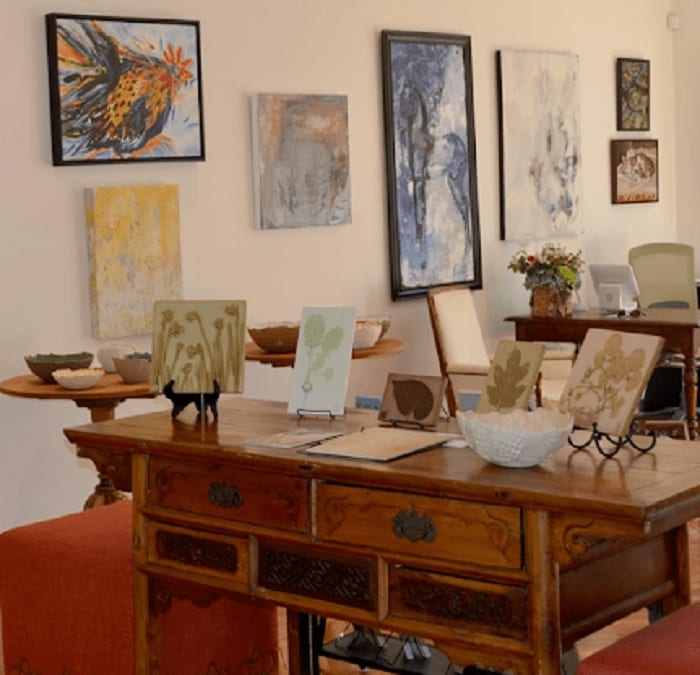 Serenbe's one-of-a-kind atmosphere is largely defined by its four unique hamlets: Selborne, Grange, Crossroads, and Mado. These borough-like neighborhoods each boast their own charismatic energy and have been built upon the principles of art, agriculture, health, and education.

Serenbe's first hamlet, Selborne, is devoted to the arts. It's here that the village's art galleries, playhouses, and ateliers reside. The Chatt Hills Gallery houses the work of twenty artist members to encourage artistic growth, as well as offers public viewings to encourage art appreciation and foster art education. The gallery is run by community volunteers and offers both free public exhibitions and art classes. Selborne shops such as Hamlin—an eclectic store with clothing, cosmetics, fragrances, jewelry, toys, and gifts sourced from local artists and vendors.

Nearby in Grange, Serenbe's agricultural district, you'll find a wealth of agricultural opportunities. This neighborhood is home to Serenbe Farms, a 25-acre plot devoted to growing certified organic fruits, vegetables, and herbs. Additionally, if you walk down the streets, you'll notice a surplus of edible foliage as the landscaping has been thoughtfully designed to create a food-focused environment. The community's General Store is a food and wine market where residents stock up on pantry items and dinner drinks.

Health-savvy Mado is Serenbe's newest hamlet. Devoted to pursuing an active lifestyle, Mado boasts a swim club, fitness facility, yoga studio, multiple spas, and a variety of naturopathic medical offices. Serenbe Yoga + Body Works offers a well-rounded itinerary of classes designed to help students relax and ignite their inner selves after a long week of work.

Serenbe's busiest hamlet known as Crossroads is located where Selborne, Grange, and Mado intersect. Explore Forage & Flower florist or marvel at the custom, hand-made racing bikes at Pro Bike Repair. A stroll through Crossroads will show you how homes and restaurants connect with arts and businesses.

With another hamlet in the works, Serenbe's fifth phase of hamlet development will focus on education. The community plan includes expanding the school in order to teach children locally, as well as creating a campus for semester-away programming.
3. A City-Lover's Small Town
When making the move from a big city to a small town, you can expect to make sacrifices—say goodbye to the constant bustle of traffic, picking up a bite from a bodega after work, and drifting mindlessly in and out of designer shops. Luckily for Serenbe residents, this community boasts opulent amenities that rival the likes of urban dwellings. Here, you'll find a more purposeful style of living, one that involves coming together at the community garden, letting your children play together in the wilderness, and browsing local boutiques for sustainably-made items. You won't be shopping at mega-chain supermarkets anymore. Instead, you'll be enjoying farm-to-table fares every night. Skip the weeknight traffic for navigating town on a golf cart. Plus, you're never far from an Amazon Prime delivery.
4. Conservationist Beginnings
Created when the threat of urban sprawl began to creep in, Serenbe's creators were deeply driven to protect Georgia's gorgeous landscape.

At its inception in 2008, the city of Chattahoochee Hills enacted the "70/30 rule" where 70% of total development area must remain untouched, or wooded, while 30% may be cleared and developed for homes or businesses. Today, 70% of Serenbe's land remains protected from development, which is crucial to maintaining its private, lush feel. Of this preserved land, Serenbe has created 15 miles of hiking trails through the forests of the Chattahoochee Hills for residents to commune with nature.
5. A Wide Array of Home Designs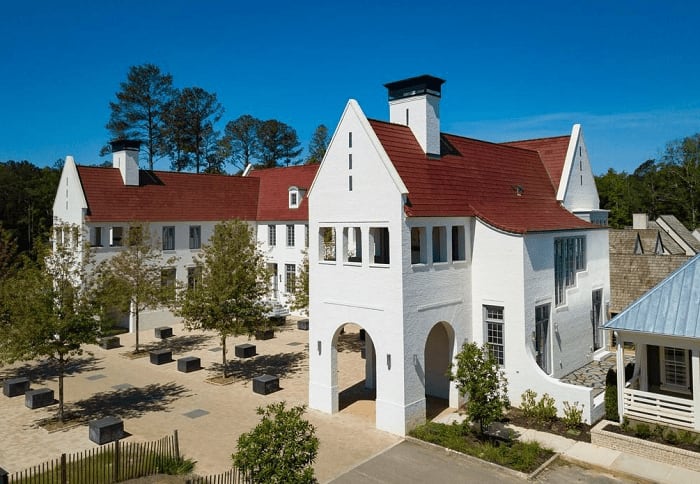 Serenbe smartly offers a variety of housing styles specifically designed to work with the land. This architectural variety ensures that there is a home style suited for nearly every living arrangement. Whether you're seeking a stately mansion, a brick, Brooklyn-inspired townhouse, or a Scandinavian rowhome, Serenbe has a place where you belong. All of the homes are Earthcraft Certified, adhering to strict energy efficiency standards. Plus, most homes here are geothermally heated and cooled, which means that utility expenses are at an all-time low.
6. Know Your Neighbors
In a world where it's so easy to be preoccupied with sending emails, updating social media, and checking the latest news flashes on your phone, life in Serenbe moves at a different pace. It isn't unusual here to know your neighbors and other residents on a first-name basis, to smile at each other while picking up groceries, or to wave hello on the streets and to catch up over coffee. While urban living can sometimes be ostracizing and lonely—so many unfamiliar faces on crowded streets—Serenbe's sidewalks are neither unfamiliar nor crowded. This close-knit community boasts walkable avenues, plentiful options for dining and congregating, and an enthusiastic attitude.
7. Wellness-Oriented Community
Because Serenbe's roots are dug deep into a culture of sustainable wellness, residents here have a vast array of opportunities at their fingertips for healthy living. By emphasizing a holistic, preventative lifestyle, Serenbe residents are constantly encouraged to lead a life that helps them look and feel their best, whether that means participating in an afternoon goat yoga session, volunteering at Serenbe Farms, or pacing through a stone labyrinth. Living in Serenbe means embracing outdoor activity and prioritizing your health.
8. Farm Fresh Produce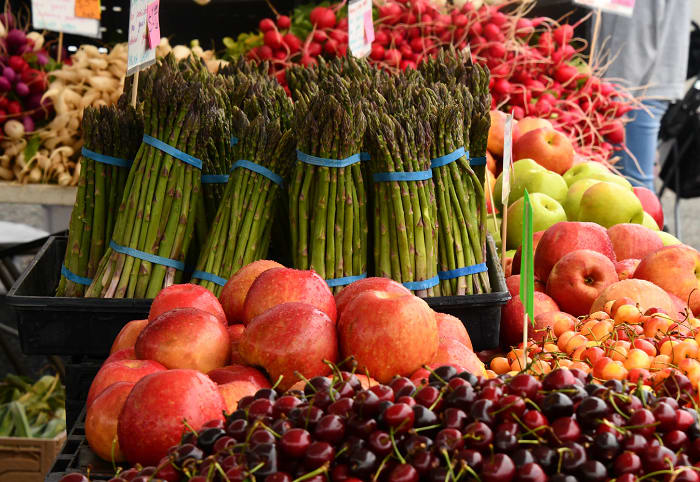 Serenbe's community-supported agriculture (CSA) program at Serenbe Farms provides residents with local, organic, seasonal produce. The CSA is a membership program organized internally that supports the locals with a farm-to-table grocery package. Each week, members of the CSA receive freshly picked crops for their pantry, and their annual membership fees support the community's farmers. This system prioritizes organic growing techniques, and produce is always seasonally inspired for optimal growth. This means that local produce never has to be transported, and instead, members are able to enjoy their produce fresh from the farm.
9. Close Enough to Commute
Serenbe attracts residents from all walks of life—young professionals, flourishing families, and retirees yearning for relaxation. This charming and attractive community is able to appeal to a variety of lifestyles for its close proximity to the heart of Atlanta. Although many community members work remotely or locally in Serenbe, the opportunity to commute to the city is appealing for anyone who craves the reprieve of nature but doesn't want to sacrifice their corporate career. Less than 35 miles from Atlanta's dense downtown, Serenbe is a far cry from the city's urban bustle, but the contemporary amenities are still well within driving distance.
10. Ample Services Within Reach
Serenbe residents are fortunate to be situated in close proximity to stellar healthcare and stunning academic opportunities. Nearby hospitals include Select Specialty Hospital in South Atlanta, which is only 31 miles away, and it is less than an hour's drive to Emory Healthcare locations around the city. Additionally, Serenbe has recently acquired a number of local services, including area chiropractors, physical therapists, and a dentist. Serenbe students are within reach of Acton Academy, a private school with Montessori principles.
11. Stunning Culinary Catalog
Serenbe boasts a delightful and well-rounded option of culinary houses. Halsa is a health-focused eatery that touts a vegetable-focused, Mediterrannean menu, which is perfect for local vegetarians and vegans. Blue Eyed Daisy Bakery is a local hotspot for espresso drinks and catching up with friends, and its downtown Selborne location is quaint and charming.

If you'd like more information about Serenbe homes for sale, contact Team Reed today to learn more. This mesmerizing community is an ideal place to get in touch with nature as a young professional, raise a family in a well-lit and familiar environment, and rest and rejuvenate as retirees.