Southwest of Atlanta lies Chattahoochee Hills, a quaint and quiet community that offers its residents numerous amenities and a natural wealth of gorgeous scenery. Here are 11 reasons why people love living in Chattahoochee Hill country.
1. A Slower Pace of Life
Many residents in Chattahoochee Hills trade the constant hustle and bustle of city life to breathe a little easier here in the Appalachian Mountains' southern tip. This idyllic community isn't confined to the rush of 9-5 careers, suffering from sidewalks overcrowded with pedestrians or tainted by all-hours light pollution. Instead, Chattahoochee Hills residents enjoy blissful, laid-back mornings on the patio and nights with skies full of stars. It's a calming environment unlike anywhere else in the Atlanta Metropolitan Area.
2. Ample Untouched Acreage
Chattahoochee Hills is home to just under 3,500 permanent residents in an area that spans 32,000 acres, which means living here affords residents pristine privacy and plenty of room to grow. Because this community is sparsely populated, residents will never have to deal with all-night road-noise, trading crowded streets for chirping crickets and bubbling creeks. Compared to some neighborhoods around Atlanta, Chattahoochee Hills also offers robust lots with ample room to expand.
3. Breathtaking Scenery
Chattahoochee Hills is renowned for its gorgeous landscape, and rightfully so. This area has adopted a zoning policy that protects its mature trees and stunning woodland regions. Seventy percent of this area is dedicated to preserving the natural landscape, from its sprawling forests to its sweeping fields. This ensures that community developments remain small and operate with a village lifestyle, creating unique and individualized hamlets. This area's first development, Serenbe, is the epitome of this biophilic development — one that builds intentionally with the land rather than clear-cutting Georgia's pines and hardwoods for new construction.
4. Ideal for Adventurers
Boasting hundreds of miles of hiking and mountain biking trails, Chattahoochee Hills is ideal for those who enjoy a range of outdoor activities. Hiking, road biking, and mountain biking are the typical favorites. Cochran Mill Park offers 17 trails varying in difficulty which wind along both Bear Creek and Cedar Branch Creek—with plenty of waterfall views. Residents with a Chattahoochee Hills address may obtain a free Park's Pass from City Hall to explore all parks including the nearby Rico Park and Athletic Field, Hutcheson Ferry Park, and Old Campbellton Park. Finally, since the town's periphery is situated along 14 miles of the Chattahoochee River, it is the perfect place for an afternoon of fishing.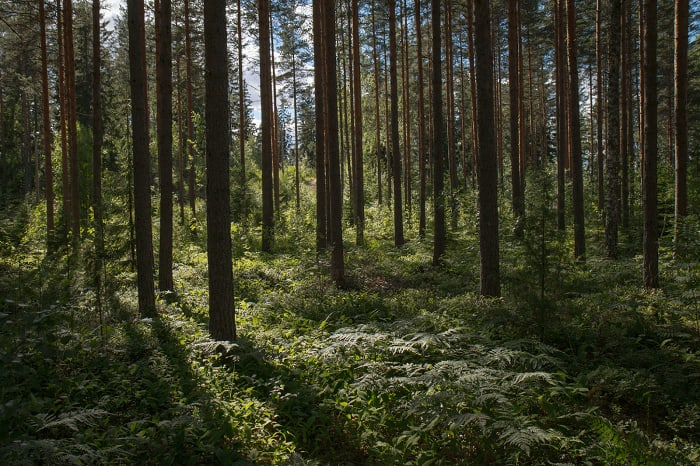 5. Proximity to Atlanta
Despite being located in the thick of this woodland hillside terrain, Chattahoochee Hills is still widely accessible, and it's easy to make an afternoon trip into the city. Although you'll find a plethora of nearby amenities, it's only a quick drive to downtown Atlanta, whether you're commuting for work or play. From Chattahoochee Hills, residents are 33 miles from the Georgia Aquarium, 34 miles from the Atlanta Botanical Garden, and only 21 miles from the Hartsfield-Jackson Atlanta International Airport.
6. Access to Organic Ingredients
Serene, off-the-beaten-path communities like these sometimes run the risk of becoming food deserts, where healthy, nourishing ingredients are few and far between, but that isn't the case for Chattahoochee Hills. Nearby in Serenbe, you'll find Serenbe Farms. This community-supported agriculture program is designed with sustainability in mind. Members pay an annual fee that supports local farmers, and in return, Serenbe Farms host a weekly farm stand where members receive freshly picked produce items. These certified-organic crops are harvested seasonally and never transported, so consumers can enjoy these hyper-localized ingredients while supporting resident farmers. Additionally, the Serenbe farmers market opens weekly on Saturday mornings, which makes fresh produce readily available.

Another option for local ingredients is Chatt Hills Food Shop, a culinary-focused garden spearheaded by area Chef Brian Moll that is carefully tended for sustainable ingredients that bring the community closer together. Thirdly, Rodale Institute Southeast Organic Center prioritizes organic food production and on-site educational opportunities about the importance of whole ingredients. Other niche farms in Chattahoochee Hills include Wild Fern Ranch for you-pick blueberries and local eggs.
7. Eclectic Architectural Design
Unlike other communities, Chattahoochee Hills boasts a distinctly varied array of home designs that suit many living styles. If you're dreaming of a stately farmhouse with a wrap-around porch, Chattahoochee Hills surely has something that will fit your style. However, you might be surprised to find brick townhomes reminiscent of pre-war New York City, sweeping Victorian mansions with steeply pitched gables, and waterfront condominiums with all the latest appliances. This diversity of architecture grants each home a unique feel, while in nearby Serenbe, whole hamlets are granted an attractive ambiance through architectural cohesion.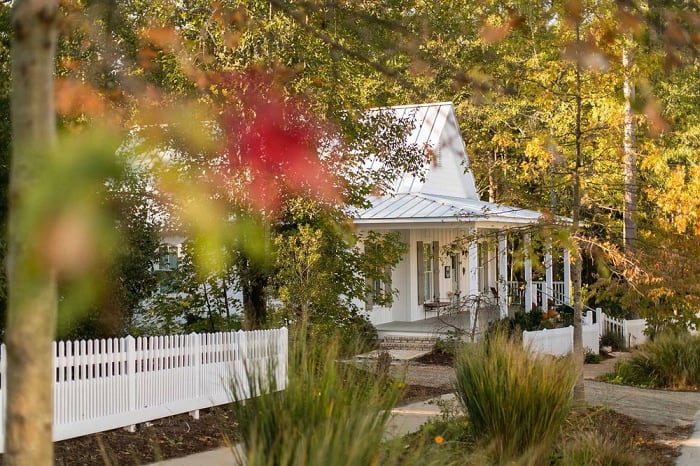 Credit: Peachtree Photography
8. Fit For the Ages
In part due to its plethora of living accommodations, Chattahoochee Hills is beloved by a diverse set of people, from young professionals craving the solace of small-town living while commuting every weekday to retirees ready to relax under the shade trees. Residents of all ages can rest easy knowing this community is located within a reasonable driving distance of Atlanta's prestigious healthcare facilities in the Emory Healthcare group. Families enjoy the area's abundance of green space, perfect for letting kids explore and experience nature firsthand. Additionally, the area is close to many outstanding educational facilities, including Acton Academy and Chattahoochee Hills Charter School.
9. Arts, History, and Culture at Your Fingertips
Despite Chattahoochee Hills' remote location, this community is not withdrawn from the latest arts or music trends. In Serenbe's Selborne hamlet, the artist-operated Chatt Hills Gallery showcases its 20 artist members while participating in community outreach. Because the gallery is volunteer-led, it offers residents the unique opportunity to participate in arts education — the gallery hosts free public art classes and encourages conversational discourse during public exhibitions. On the northernmost edge of town, Bouckaert Farms hosts annual equestrian events, country weddings, and even music festivals. The farm is most famously known for hosting the EDM festival, TomorrowWorld.
10. Community that Gives Back
One draw of Chattahoochee Hills is its active community participants. Residents in this area are known to be hands-on in the community, which fosters a close-knit neighborhood where residents know each other by name. Volunteers come together to keep the Chattahoochee River National Recreation Area safe, clean, and free of debris or litter. Volunteers will have the opportunity to participate in either land- and water-based clean-up, scouting the park's 48 miles of hiking trails, or monitoring the tributaries' pH and temperature. City Hall has a community library and food pantry that holds quarterly food drives and collects gifts for children around the holidays.
11. Wellness-Focused Living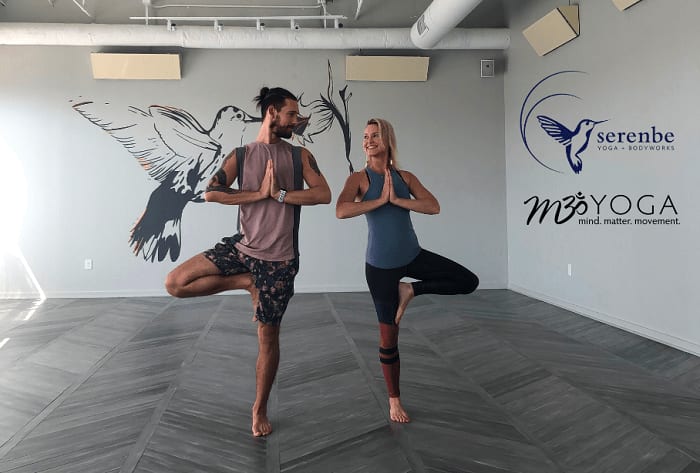 Credit: Serenbe Yoga + Bodyworks
Many people move to Chattahoochee Hills to prioritize living a life they love, and often that means making informed choices to lead a healthier and happier lifestyle. There are a plethora of nearby opportunities available for locals to stay active. Serenbe Yoga + Body Works is home to Serenbe's notable Goat Yoga program, where participants practice a vinyasa flow while congregating with adorable — if mischievous — young goats.

Whether you're an avid equestrian or have never been horseback riding before, Serenbe Trail Riding offers guided equestrian tours. Led by a local experienced hunter/jumper competitor, ride options include a standard one-hour ride, an extended picnic lunch ride, and an inclusive proposal package that is perfect for a memorable evening.
Chattahoochee Hills is a stunning landscape unlike any other, and this one-of-a-kind environment is beloved by its residents. If you're interested in learning more about Serenbe real estate or homes for sale in Chattahoochee Hills, contact Team Reed today for more information.