The designers of Serenbe, Georgia, wanted it to be a biophilic community, meaning one in which the residents are easily connected to the surrounding nature. With physical and mental health in mind, homes for sale in Serenbe are placed into hamlets, or small neighborhoods built around community centers. The entire construction of each hamlet intentionally emphasizes sustainability, community engagement, and access to trails and town amenities.


When city buyers are looking to ditch the hustle and bustle for something more laid-back, there are a few qualities that make a home stand out in this charming community.
What city buyers look for in Serenbe homes
Access to nature trails
Over 15 miles of trails link Serenbe's neighborhoods to the surrounding forests. Situated within acres of protected land, Serenbe's design encourages residents to have easy access to trails and outdoor space. Though it's located 20 minutes from the southern outskirts of Atlanta, those interested in Serenbe real estate will find the town feels like anything but a bustling city suburb.


Trails are not open to the public but instead are reserved for Serenbe residents and guests staying at the local inn. However, twice a year, people from outside the community can join in on either a 5k or 15k run in the Serenbe Trail Race. For those who walk or hike the paths, it's not uncommon to pass through pine forests, horse paddocks, and large, open fields peppered with wildflowers. If hiking isn't your style, Serenbe Trail riding also offers rides for those who want to see the trails from horseback. One-hour standard rides are $85. Or, you can choose to take a picnic ride to a waterfall or a romantic proposal ride to pop the question to your loved one.


For avid animal lovers,
Bear Creek Nature Center
is only nine minutes from town and offers Serenbe residents over 50 acres of trails and ecosystems to explore. The center cares for both local and non-native wildlife with the goal of providing Georgia residents with environmental education.

Porches and decks
Serenbe residents cherish their ability to meet new neighbors and friends from the comfort of their front porches. Townhomes and cottages are the most common homes for sale in Serenbe, many of which are newly built and waiting for a resident. Potential homebuyers also have the option of purchasing a lot within a Serenbe hamlet to design and build a custom home.
Nevertheless, porches and decks are a must-have in Serenbe so that residents can take full advantage of the beautiful forest views. Split-level townhomes provide spacious balconies for residents to make their own. Many outfit the space with swings or hammock chairs, patio tables, and small dining areas to bridge the gap between indoor and outdoor living. Rental spaces in Serenbe usually offer rooftop amenities, including patio areas and garden space.
Each new stand-alone in Serenbe should have some kind of access to the outdoors, whether it be a full-length front porch or a back deck facing the trees. Single-family homes will often have decks extending from the upper level, with additional space for outdoor entertaining shaded beneath it. Covered porches, whether at the front or back, are standard features of every home in Serenbe, whether it's a traditional-style cottage or built within a modern design.

Smaller spaces
Many real estate designers, builders, and investors assume that square footage equates to a higher home value. However, Serenbe is a town built around the values of community, connection with nature, and modest living. Instead of hunkering down in extravagant homes on acre-sized lots, buyers who invest in Serenbe real estate tend to prefer homes on the smaller side. New constructions on the list of homes for sale in Serenbe fall in the range of 1,436 to 2,700 square feet with 3-4 bedrooms. Single-bedroom rentals or condos are closer to 800 square feet, while the largest homes in Serenbe are just over 3,000 square feet.


Smaller homes tend to be
more energy-efficient
, keeping in line with Serenbe's value for developing a sustainable community. They also require fewer furnishings, less maintenance, and lower costs of upkeep. More than that, smaller homes also encourage their residents to get outside and be active in the community. While larger houses may include built-in gyms, theaters, and swimming pools, smaller homes don't have the space. That means residents have to use the community's resources and hopefully get to know their neighbors while doing so. In Serenbe, a strong sense of community is the ultimate goal.

A tight-knit community
Serenbe is referred to as "
a wellness community
," designed to keep its residents connected to each other and to nature. In larger cities, there's often a higher sense of anonymity and isolation. That's why many city buyers are looking for that tight-knit community feel when they look into Serenbe real estate. Serenbe is home to a 25-acre farm with all-organic fruits and vegetables that are grown to feed the community. The community is invited to take part in regular trail hikes, races, and horseback riding. There are seasonal festivals and concerts as well as film and lecture series. Arts galleries and cooking classes are also available to take part in.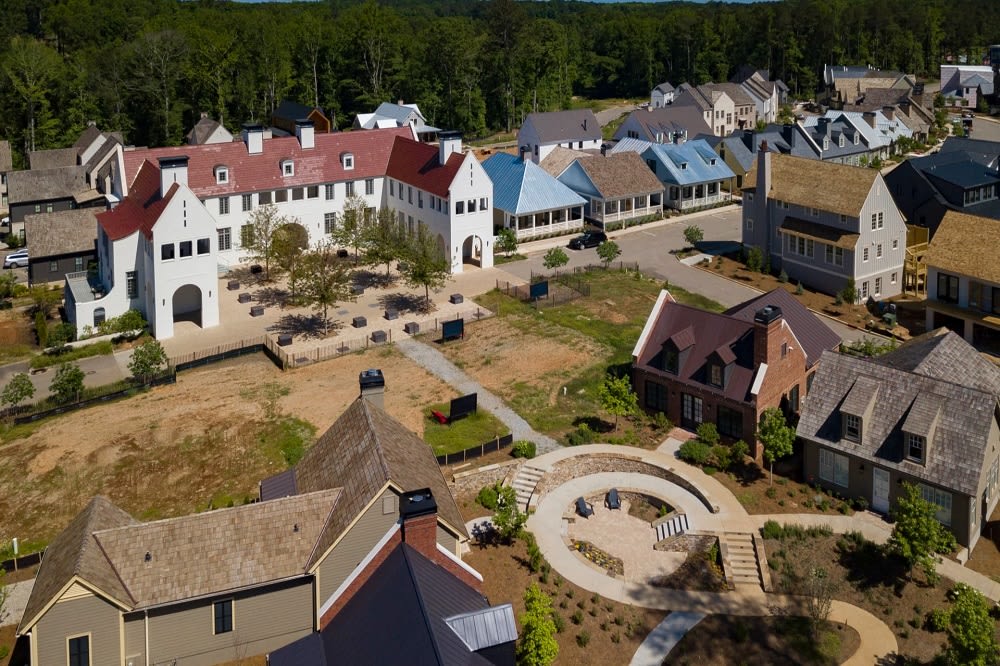 Though engagement and service aren't required in Serenbe, most newcomers will be invited to take part in the community, whether through volunteer opportunities or environmental outreach programs. Serenbe prides itself on being a place anyone can call home, but those who live there tend to have a strong value for helping others and getting to know the other residents in their neighborhood.
Post office boxes at the center of town and open porches help neighbors connect with one another. All the amenities in town are within walking distance, too, meaning you can easily bump into your neighbor on the way to lunch and strike up a conversation.
Looking for Serenbe real estate?
Serenbe is a stunning, picturesque community that approaches life with intentionality and purpose. If you want to know whether you could be at home in Serenbe, contact
Team Reed
to see what options are available to you.