The beautiful and sustainable community of Serenbe is a wellness-focused oasis located just outside Atlanta. Located among gorgeous forests and sprawling meadows, this idyllic community is home to commercial buildings with shops and restaurants as well as airy loft apartments and comfortable single-family homes. Serenbe is a planned community with distinct and purposefully chosen architecture, giving the area a pleasant, small-town atmosphere. No matter what type of architectural style you choose, rest assured that your home will be outfitted with all the best green technology, ensuring that you can live as sustainably as possible! Here are some of the gorgeous architectural styles you'll see in Serenbe, whether in the form of private residences or community buildings.


1. Classic Farmhouse
Given that Serenbe has such a focus on sustainable farming, it's no wonder homes in the classic farmhouse style are so popular! This style invokes the pastoral feeling of modest houses built in rural America by pioneers during the 18th and 19th centuries. These early farmhouses were typically quite simple and built from materials like stone, wood, or mud bricks, depending on the location. The homes were also built by the families who would go on to live there rather than professional architects or trained builders, which gave many of these humble abodes a primitive feel.

Over time, farmhouses grew past their most basic purpose—to provide shelter for farmers and their families in rural areas, often without amenities—even electricity. Today, the classic farmhouses of Serenbe are outfitted with all the comforts of home while retaining their pastoral beauty! You'll find many of these beautiful farmhouse-style homes in the Grange neighborhood, which also houses Serenbe's agricultural center. These homes typically feature clapboard siding, a partially enclosed front porch, welcoming and long porches, a white or light-colored exterior, and dormer windows. Typically, a farmhouse will be set on a beautiful plot of land with substantial acreage. Interior features include apron front sinks, beadboard backsplashes, ornate fireplaces, formal living rooms, and a simple floor plan—typically with a staircase leading up from the kitchen to a second story. You'll find a gorgeous example of classic farmhouse architecture at Serenbe's Farmhouse, a cozy and picturesque farm-to-table restaurant that serves up delicious meals and craft cocktails for residents and visitors alike.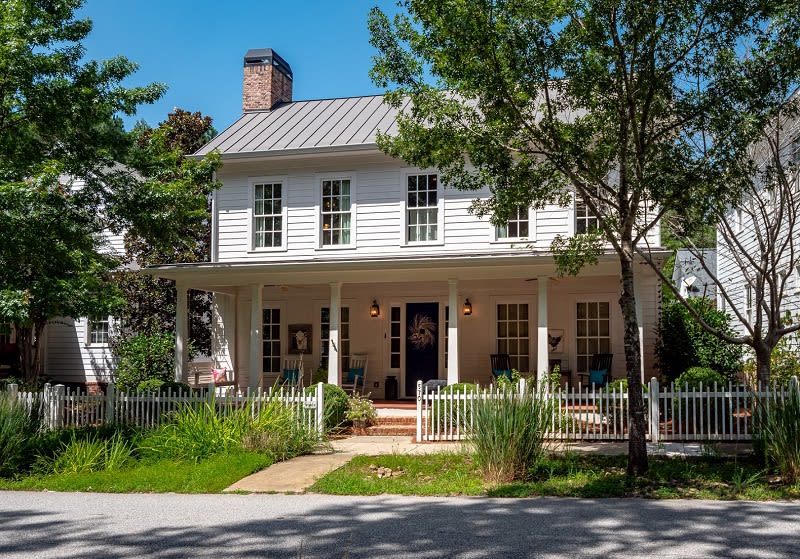 Credit: Bartolotti Photography
2. Victorian
Serenbe is home to some truly stunning Victorian-style homes, with many looking out over the beautiful and sparkling lake or located within the Grange neighborhood. The Victorian style of architecture is one of the most popular in the country, noted for its romantic and historical feel. This style originated in England during the reign of its namesake, Queen Victoria, and encompasses various overlapping styles, including Gothic Revival, Folk Victorian, Italianate, Greek Revival, Stick, Shingle, and Queen Anne. 

Victorian homes are noted for their steeply pitched roofs, ornate gables, painted iron railings, spacious wraparound porches, and asymmetrical features. In Victorian architecture, homes are quite ornate and detailed with beautiful flourishes and embellishments; they tend to give off an air of glamour. Inside, the dramatic atmosphere continues with stunning details like grand spiral staircases, high ceilings, decorative fireplaces, stained glass windows, and hardwood flooring. The decor inside these stunning homes often tends toward the eccentric, with patterned furniture and area rugs, heavy drapery, and decorative wallpaper setting the scene.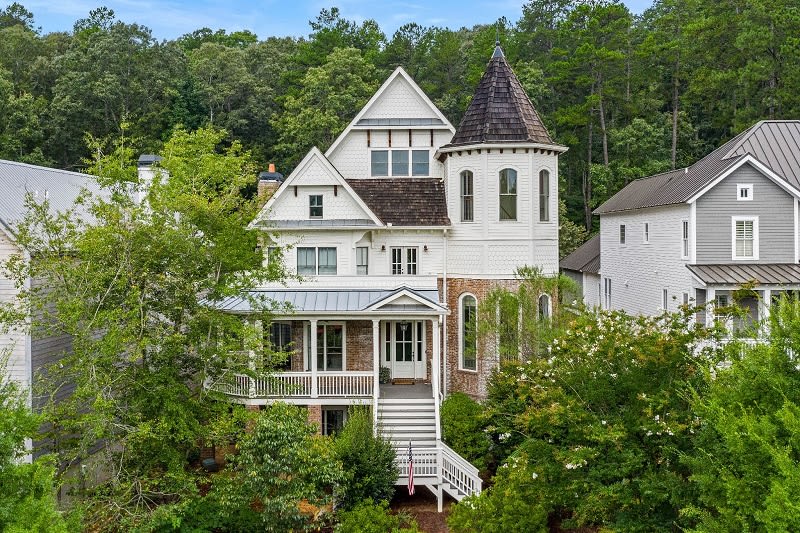 Credit: Bartolotti Photography
3. Modern
Sometimes referred to as "contemporary," the modern style tends to be popular in locales with warmer climates due to its focus on wide glass walls, floor-to-ceiling windows, and open floor plans that flow from outdoors to indoors—all features that help cool the space down. In the environmentally-focused and sustainable community of Serenbe, modern homes fit right in! These homes are easily updated to add energy-efficient features for rainwater conservation and fit right in against a stunning natural backdrop.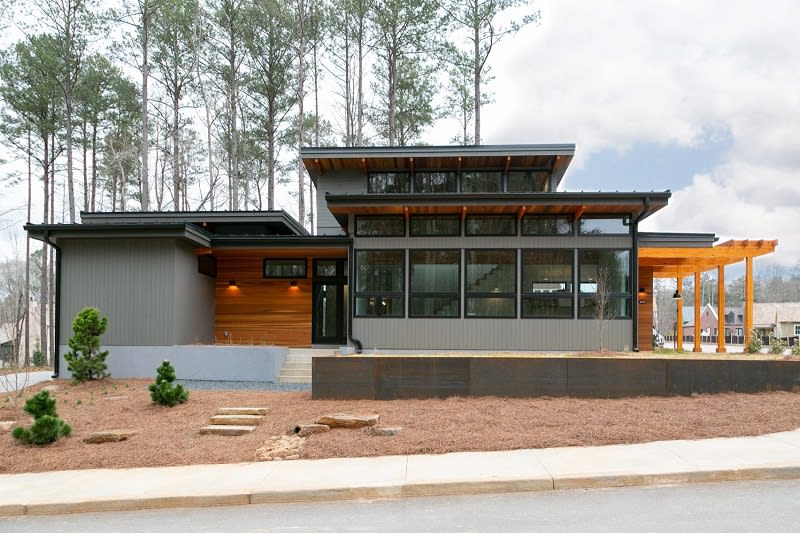 Credit: Dezeen.com
First popularized in the early to mid 20th century, the modern style rejected many conventions of its predecessors. Instead of incorporating fancy detailing or high gabled roofs, modern homes are all about clean, defined lines and function over form. Minimalism is a key component of the modern architectural style. Modern homes are usually made from materials like steel, iron, glass, concrete, or stone while featuring large and wide windows to let in plenty of natural light. The inside of a modern home is typically quite open, with one spacious room flowing naturally into the next. 

4. European, sp. Scandinavian
While there is no distinct or defined "European" architectural style per se, many of the homes within the community of Serenbe incorporate elements from various European countries, giving the neighborhoods a unique flair that feels far away from Georgia. In fact, much of Serenbe's ethos was based on that of an English village, with a focus on peace, tranquility, a relationship with nature, and camaraderie with neighbors. 
Serenbe's beautiful Mado hamlet is known as the community's health and wellness epicenter. The architecture reflects Scandinavian influences, like colorful buildings that are reminiscent of Sweden and Copenhagen. The community is even home to some Scandinavian-inspired apartment buildings for luxury living. Many of Serenbe's homes are also influenced by the quaint and cozy cottages of picturesque English villages, looking straight out of a fairytale with steeply pitched roofs, small windows, and arched doorways, all surrounded by lush green woods. Head downtown to Serenbe's Main Street, and you'll catch sight of some ornamental Italian influences on commercial buildings.
(Image Credit: LifeAtSerenbe.com)
5. French Colonial / Chateau
Homes in the ornate and beautiful French Colonial style are common throughout the American southeast, particularly in French-influenced Louisiana. The style dates back to the early and mid 17th century when French colonists arrived in the United States to construct their first homes. While Louisiana is home to the greatest concentration of French Colonial architecture, the style is also certainly popular in Georgia, especially within the community of Serenbe, where residents appreciate the stately feel and romantic details of these homes.

As many French Colonial homes were built in warm climates, they needed to be able to withstand extreme heat and humidity throughout much of the year. Rain, hurricanes, and flooding were also concerns; settlers, and later architects, worked hard to protect their beautiful homes from any storm damage. Typically, these homes feature wrap-around porches (also known as galeries) to protect the home itself from rain, heat, and intense sunlight. Raised basements also helped elevate the home away from any flooding, and ceilings were designed to be raised and vaulted to help with the oppressive heat inside the home. Other common exterior details include wrought iron porches and balconies, French double doors, and a square and wooden structure with a centered front door. Inside, these homes are typically quite grand, flooded with natural light and featuring some elements that are common in the Victorian style, like hardwood floors and ornate, patterned rugs.
6. All-Brick Lofts
If a single-family home isn't quite right for you, consider looking into Serenbe's industrial-chic loft apartments. Located in the Grange neighborhood, the Serenbe Textile Lofts offer luxury living on a smaller scale. The building's design was inspired by that of a turn of the century textile mill, constructed from beautiful, hand-laid red brick and featuring dark wooden balconies, wide, narrow windows to let in plenty of natural light, and ample green space in the form of interior courtyards. The copper spa and fire pit are wonderful amenities to enjoy on a warm, sunny day. There's even a rooftop deck to enjoy with friends, family, and neighbors! The all-brick lofts are a fabulous choice for anyone who loves the industrial, trendy vibe. 

Choose from studio, one-bedroom, or two-bedroom options to suit your needs. Inside each unit, ten-foot ceilings stretch high above, allowing plenty of space, air, and natural light. You'll love cooking up a meal in the open and spacious chef's style kitchen, and the sweeping views of the Serenbe community are a sight to behold. The lofts feature gorgeous, dark hardwood floors, white doors with black accents, and pristine luxury bathrooms in muted shades of gray and white. Of course, each unit is also outfitted with the best technology to ensure that everything is energy efficient, using geothermal energy for both heating and cooling.

If you're looking to immerse yourself in an environmentally friendly and peaceful atmosphere where neighbors become friends, dive into the world of Serenbe real estate today! Contact experienced and knowledgeable real estate agent Karen Reed today; as a Serenbe resident herself, she will be happy to assist you in your search for homes for sale in Serenbe, including luxury abodes, cozy cottages, and condos.
.
(Header Credit: Jessica Ashley)