Nestled just 30 minutes away from the bustling city of Georgia is an off-the-beaten-track, charming small town known as Chattahoochee Hills. While nearby towns have experienced significant development, Chattahoochee Hills has managed to remain true to its roots and is committed to preserving its rural heritage.

One way they are accomplishing this is through the Chatt Hills Barn Quilt Trail. This trial has filled the Georgia countryside with color, infusing the area with a vibrant and lively atmosphere. Individuals from all over flock here to connect with nature at Chattahoochee or partake in a much-needed escape from the hustle and bustle of city life. Read on to learn more about what makes the community of Chattahoochee Hills so special.

The Origin of the Barn Quilt Movement
While most people don't associate the words "quilt" and "barn" as belonging together, that is slowly but surely changing. Over the past two decades, the barn quilt movement has gained momentum and increased in popularity. It started in southern Ohio before spreading to 43 other states - including Georgia. Donna Sue Groves of Manchester, Ohio, is credited with beginning the barn quilt trail movement in 2001. Donna Sue received her initial idea for barn quilts from advertisements she saw painted as barns. With this in mind, she decided to paint a quilt square on the family barn in honor of her mother's love of quilting. Friends of Donna Sue joined the adventure, eventually creating 20 barn quilts on Ohio's first trail.
How the Movement Came to Chattahoochee Hills
Laurie Searle, along with her husband, Sam Smith, brought this artful tradition to Chattahoochee Hills. Laurie and her husband, Sam, familiarized themselves with Chattahoochee Hills' rural countryside in the late 1990s. They did this through marathon training and road biking on the city's acclaimed "silk sheets'' cycling route. It didn't take long for them to fall in love with the natural beauty of the land or the hospitality of their neighbors around them. In 1997, Laurie and Sam were given an opportunity to work remotely. This enabled the couple to move away from the Fort McPherson military base in East Point to Chattahoochee Hills, and their lives there began.

Years later, in 2020, Sam constructed a tractor and machinery barn which was visible from the couple's kitchen table. This inspired Laurie to paint a free-hand square on its side to beautify the view. They named the barn quilt "Orienteering Compass," which serves to pay homage to their favorite spot - Orienteering. The barn square boasts colorful blue, orange, and white triangles.

Shortly after this initial undertaking, the idea for a city-wide barn quilt trail was born. The next step in the barn quilt movement occurred when Laurie met with Chattahoochee Hills City Manager Robbie Rokovitz. She collaborated with Robbie to secure municipal sponsorship of the program using hotel and motel funds, which promoted tourism development projects. The movement has only grown since then.

The barn quilt trail has been a part of the Chattahoochee Hills for one year, but during that short window of time, it has rapidly expanded to display 23 impressive installations. If you drive through this area today, you'll spot these colorful designs on barns, sheds, garages, mailboxes, and even public buildings.
Tour the Trail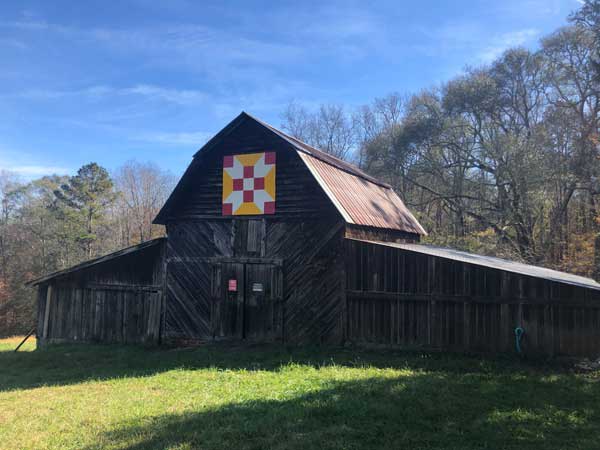 Credit: Chatt Hills Barn Quilt Trail
If you want to experience the barn quilt tour up-close-and-personal, then consider participating in a Chatt Hills Barn Quilt tour. During the tour, you will have the chance to learn more about the fascinating rural heritage of the scenic Chattahoochee Hills. Visitors can embark on a self-guided tour of the trail, where you can take photos from the public road. Each one of the 23 painted quilts is based on a traditional cloth quilt design, with each one telling a story about the rich Chatt Hills heritage. An interactive map will educate you on the trail route and how to take a self-guided tour. Here are some of the top designs that you can look forward to seeing.
Smith Grocery Store
On your self-guided tour, be sure to stop by the Smith Grocery Store. This grocery store, which is owned and operated by the Smith family, has been a part of the community for over 100 years. Located at the historic crossroads community of Rico, Smith Grocery Store offers a variety of staples. Here you can find an assortment of household goods, as well as good old-fashioned hospitality.
Garner's Horse Barn
Owned by a local husband and wife duo, the Garner's Horse Barn is a must-visit on your tour. The Garner family purchased a barn over 20 years ago and purchased a horse, Buttercup, shortly after. Upon first seeing several barn quilts in Amish Country, Buddy Garner was inspired to replicate this on his own barn. The couple then attended a barn quilt trail meeting, eventually centering their own pattern on the Montana pattern in the Pioneer Sampler book. Buddy drew the pattern on the signboard, and the couple painted the quilt together.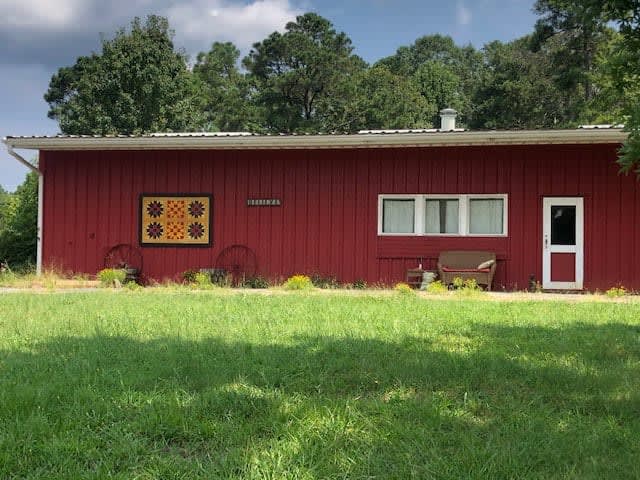 Credit: Chatt Hills Barn Quilt Trail
Branan Shop
Henry and Annella Branan's barn quilt is true to the nature of barn quilts — it's colorful design will immediately catch your eye. Upon first laying eyes on Chatt Hills, the Branans fell in love with everything the rural outdoors had to offer. Both husband and wife enjoyed collecting and making crafts. When the property next door came up for sale, Henry and Annella quickly jumped at the opportunity to own it. They then proceeded to incorporate barn quilts into the Branan Shop. Henry selected the Flying Birds quilt pattern, which featured blue and white tiles.
How to Create a Quilt Square
Credit: Barn Quilt Headquarters
Interested in creating a quilt square? If so, then there are some helpful tips and tricks to keep in mind. Creating a quilt square is a surprisingly detailed task that requires attentiveness and precision. If you haven't created a quilt before, then you might want to consider attending a barn quilt class or phoning a quilting friend for advice. Still, there are some tricks of the trade that can guide you through this process to make a quilt that you'll be proud enough to display.

You'll start by choosing a pattern. Whether you have a family quilt pattern you want to use or find a design from the internet, there is a myriad of designs and colors to choose from. Upon selecting a pattern, the next step is to assemble the materials. Searle recommends semi-gloss fade-resistant and mold-resistant. Be sure to use latex paint on top of the aluminum composite paneling.

The next step is cutting the panel to size. Sizing is typically either 4'x4' or 8'x8', although this can vary depending on the available space on your barn or structure. Once the panel has been cut to size, the pattern will then be outlined in a grid-like fashion, which can be accomplished by using tape. After using tape, you'll want to paint the grid with three or four coats of paint until it is well-covered. During this step, you'll most likely need to utilize a ladder or bucket truck. This will be helpful when it comes time to install the quilt squares to the barn. For more information on how to create a barn quilt, learn more about the process here.
How to Join the Trail
Anyone and everyone in Chattahoochee Hills are invited to join the barn quilt trail. All that is required is a barn or building that is visible from the main road. You'll also want to establish whether you are comfortable with visitors taking photos of the barn quilt (visitors are instructed to only take photos from public roads).

For those without barns visible from the public road, Searle suggests two options for participation. The first option is for "mini" quilt installations at the base of your mailbox. This will bring a pop of color to your mailbox and create an eye-catching design. The second option if you don't have your own barn to decorate is by volunteering to help a neighbor's full-sized barn quilt.

Hosts who meet the above requirements have three options when it comes to creating a barn quilt. If they already have a barn quilt on their property, they can opt for displaying it on the trail. Those who do not have a barn quilt may either pay for their own or receive a free barn quilt from Chatt Hills Barn Quilt Trail lease agreement.

Finally, if you'd like a barn quilt created for you, a volunteer will guide you through the selection of a pattern, painting, and installation. What are you waiting for? Fill out the application to join the Chatt Hills Barn Quilt Club together, and join the adventure!

If you're looking for Chattahoochee Hills real estate to join in on the fun, contact Team Reed Realtors. They'd be happy to help make this community your new home.
*Header image credit: Clay Neely / The Newnan Times-Herald